This post contains affiliate links. Please read our disclosure for more information.
Newborn baby must have list
Did you know there are actually four trimesters of pregnancy?
As if three trimesters of pregnancy fatigue, morning sickness, and peeing every 5 minutes isn't enough!
Can I be totally honest with you?
I had no idea what the fourth trimester was until my baby was almost two months old and by then I was screwed!
If this is your first time hearing about the fourth trimester, stop now and get this book by Harvey Karp. Pay special attention to the part where he discusses the 5 S's. Trust me, the first 3 months of your baby's life will be miserable without it.
Sorry, I got side tracked for a second but I don't want you to be as clueless as I was.
Have you had your baby shower yet?
If so, you probably received a lot of your requested baby items from your baby registry but I'm pretty sure most of them won't help you get through the fourth trimester.
In case this is as foreign to you as it was to me, the fourth trimester is the 12 week period following delivery and is very important to helping your baby adjust to life outside of the womb. This period is one of the most important and often overlooked.
Imagine what it would be like to have all of the first baby must haves at your finger tips so you're prepared to help your baby transition into your world.
You're in luck! Today I'll be sharing with you 4 new baby essentials that when used together will help your baby feel like he or she is still nestled in the womb. As a bonus I'll also introduce you to 5 baby must haves for first time moms to survive the newborn phase. You can thank me later!
(If you haven't signed up for your baby registry, you can do so here)
4 must haves for new parents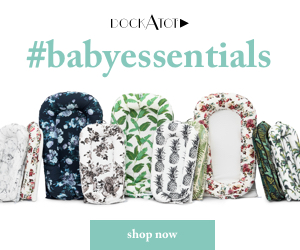 I first heard about the Dockatot when I was looking over a coworker's registry. My initial thought was "who would buy this?". Fast forward 5 months and there I was at 3am, stressed to the max with an inconsolable baby who refused to go to sleep, ordering the Dockatot.
I was desperate and desperate times call for desperate measures. you'll see! Luckily, the Dockatot did not disappoint. The first time I laid my daughter in it, she passed out immediately. Talk about relief!
Why the Dockatot?
You see the Dockatot is designed to fit snug around the baby, mimicking the environment they are used to inside of the womb. It's literally the best baby lounger out there.
Why?
Outside of its ability to make the baby feel like they are still inside of you it is also:
Portable
Travel friendly
Non-heat harboring
Machine washable
Made of material that's gentle on baby's skin
Able to grow with the baby
Easy to customize
SIDS safety is a big deal with infants so it's great that while the Dockatot is comfortable for babies it also won't cause them to get overheated. If you ever decide to bring your baby in your bed (no judgement or opinions from me) this lounger also provides protection against some of the co-sleeping concerns.
You don't ever have to worry about the baby not being in your line of site. Take the Dockatot wherever you go in the house without fear of disturbing your sleeping baby. It's lightweight and easy to move. Which also makes it perfect for traveling.
I only have one complaint when it comes to the Dockatot. You end up needing to purchase 2. The first one, the deluxe, is only good until the baby reaches 8 months. After that you'll need to purchase the grand which will cover you from 9 months to 36 months.
Trust me, you and you're baby are going to fall in love with it too.
Baby wearing is instrumental in helping babies still feel close to mom in those weeks to months after delivery. If this is unfamiliar territory, here is a great resource on the benefits of baby wearing.
I was gifted a wrap to use for wearing my baby and I loved it but found that it made us both extremely hot in the summer time. Most carriers don't have this problem but I've always questioned the security of carriers with newborns. Those concerns were laid to rest with the Lillebaby carrier.
It's versatile yet breathable and secure for baby. The best part is this carrier can be used from the time your baby is 7 pounds all the way until they reach 45 pounds. Once you've survived the fourth trimester, this carrier will once again be your best friend with running errands around town and traveling. I still use in in the airport with my 26 pound two year old.
Check out the video below to see the Lillebaby in action.
Don't do like I did and forget to continue swaddling the baby once you get home. You'll end up with a baby who startles themselves awake every time they go to sleep. This means you'll be startled awake too! So, if sleep is something you're looking forward to, swaddle should be a part of your everyday vocabulary.
Unless you work in labor and delivery, swaddling a baby with blankets can be intimidating. Using the Swaddle Me wraps removes the stress and allows you to easily and comfortably swaddle your baby.
Put this at the top of your list of must have newborn items.
The thing's you'll pay for when you're sleep deprived and tired of constant crying!
I found this must have for new parents when I came across an article discussing the fourth trimester. It was giving suggestions of different types of white noise you could use to soothe your baby. White noise did nothing for my baby unless you want to count making her even more upset. But this Baby Shusher, it worked like magic.
My daughter hated her car seat and would scream bloody murder whenever we had to go somewhere. Hearing a baby screaming in your ear for miles on end can be very unnerving. I couldn't take it but I didn't want to be locked in the house forever. In a moment of pure desperation, I downloaded the Baby Shusher app and played it for my daughter.
Guess what happened?
She stopped crying! I thought it was a fluke so I put her in her carseat and played it again.
Get this:
She stopped crying again. I was hooked and we've been huge fans of the Baby Shusher since then.
Stuff babies need
It is so hard to get little buggers out of tiny nostrils. Once your baby is able to manipulate his or her hands it will become pretty much impossible. The oogiebear changes all of that and works especially well for the dried up buggers. I feel gross talking about this but as a new mom gross becomes your new normal.
You may have seen people use q-tips to clean a baby's nose. Don't try it! They don't work that well and you can't tell how deep you are in the nasal passage. The oogiebear is designed with a bear head that prevents you from going to far. It also has a loop end and a scoop end. The loop end work greats when there is a little mucus involved. The scoop end is the preferred end when things are a little drier
One of the best features is that this can also be used to clean your babies ears. Your getting two things done for the price of one!
This isn't just first time mom must have, it's great for all moms. I'm always surprised by the amount of parents who have never come across this. It's a game changer for sure. Buy multiples so you can have one in your diaper bag, the nursery, and in the bathroom.
Mom Tip:
Spray saline mist into the nostril first to loosen things up. Then, use the oogiebear to clean your baby's nose.
Have you heard of the NoseFrida ? It's literally a snot sucker! Sounds disgusting I know but it is truly the only thing that helps when your baby is congested and can't blow their nose.
You place one end in your baby's nostril and the other end in your mouth and gently inhale. There's a replaceable filter that prevents any mucus from back flowing into your mouth. At the end of each use you just clean it with hot soapy water and change out the filter. Easy peezy.
Others who are unfamiliar with this product may look at you like you're crazy. But, it's more efficient and more comfortable than the traditional bulb suction.
You'll definitely want to have this on hand before the weather starts changing. My daughter can blow her nose now but the NoseFrida kept her nose clear for 2 years.
Check out this video to see it in action.
How hard can it be to cut a newborn's nails? Even with a the safety clippers I still manage to nick my two week old's finger. I felt terrible. The sound that followed drove me straight to Amazon to find a better solution.
Guess what?
I found it in this electric baby file. When it arrived, I tested it on myself first and didn't feel a thing. When I tried it on my newborn, she slept right through it. As she got older, she was more intrigued with it than anything but would sit there and let me trim her nails. Two years later and we are still using it and everyone's fingers have stayed intact!
The baby filer comes with 3 attachments that grow with the baby as well as 3 adult attachments. The result is harmless nail trimming that leaves baby's nails smooth and unable to scratch.
Don't make nail cutting stressful, save yourself and your baby and buy the baby nail trimmer file.
Did you know that the most accurate temperature on a child under 3 is a rectal temperature.
Yes, there are several thermometers that use the ear or forehead and claim to be just as accurate. But, when you're 2 month old feels warm you're going to want to know beyond a shadow of a doubt how high their temperature actually is.
I absolute love the Vick's Rectal Thermometer. The short probe prevents it from being inserted to far and you get your results quickly.
Mom Tip:
Lube the probe with vaseline prior to insertion.
Ear infections seem to be inevitable when it comes to babies and kids but every ear tug doesn't mean an ear infection is present.
When you're a paranoid mom, like me, you worry about missing symptoms. How do you know why your baby is pulling on their ear. Is it because they are tired? Are the teething pains traveling to their ear? Do they have an ear infection?
It's hard to know and you don't want to have to drag your little baby into the doctor's office with contagious children to find out. The wireless otoscope allows you to take a picture or shoot a video of the inner ear with your iphone and send it to your child's pediatrician. After seeing the picture, the pediatrician can tell you if you should come in or not. if your baby is pulling on their ear because they are tired or maybe it's because they are teething.
First baby checklist
Ok momma's, you now know the list of things to buy for newborn baby to help them easily transition during the fourth trimester. You also have a list of infant must haves. Don't be like me and wait until you find yourself in a state of desperation. Go ahead and purchase these things now. If your baby shower hasn't happened yet, put them on your baby registry immediately!
Like this? Pin it!