This post contains affiliate links. For more details, view our disclosure.
Choosing the Best Diaper for your Baby
Your due date is approaching and you're still wondering which type of diaper to use for your baby. That's okay Mama, take your time. There's so much to take into consideration! Will the diaper fit appropriately? Do you need an indicator to let you know when the baby is wet? Most importantly, will the diaper be gentle on your newborn's skin? No need to stress! Before you leave this page we will have a game plan in place!
You don't have to reinvent the wheel!
With more than 20 brands of disposable diapers to choose from, how do you decide? It can be very overwhelming, especially when you think of all of the other decisions you have to make.  Not only that, it can be costly if you're having to keep trying new brands. It doesn't have to be though! Wouldn't it be great to be able to try each brand you're considering without the financial burden of buying the whole box!  Another mom wondered the same thing and created Diaper Dabbler to remove the stress! With her creation you will be able to choose the best diaper for your baby in no time!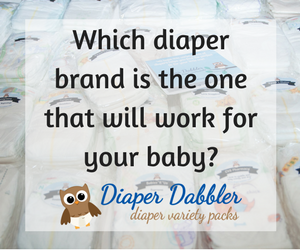 What is Diaper Dabbler?
Diaper Dabbler is a company created by fellow mom, Julie Siewert. Julie had a hard time finding a diaper that would work for her baby. She became frustrated with both the time and money she was wasting. Instead of having to buy an entire pack of diapers, wouldn't it be nice to just try a couple first? With Diaper Dabbler you get to do just that!
How does Diaper Dabbler work?
Diaper Dabbler allows you to sample diapers in packs of 3. You can choose from several pre-configured diaper variety packs or customize your own. They allow you to try as few as 9 brands in the pre-configured packages or as many as 24 brands.
When you choose to customize you can pick as few as 3 brands to try in 3-pack sample sizes.Each sample pack comes labeled with the appropriate brand name and a diaper brand rating card. This way you can keep track of which brands you like and dislike.
What Brands does Diaper Dabbler carry?
Diaper Dabbler carries 20 different diaper varieties:
Aleva Naturals
Babyganics
Bambo Nature
CVS I Love to Stay Comfy and Dry
Eco by Naty
Earth's Best TenderCare
Huggies Little Snugglers
Huggies Snug & Dry
Kirkland Signature Supreme (Costco Brand)
Luvs Super Absorbent Leak Guards
Mama Bear (Amazon Brand)
Naty by Nature BabyCare
Pampers Pure Protection
Pampers Swaddler
Pampers Swaddlers Sensitive
Pampers Baby Dry
Parent's Choice (Walmart Brand)
Seventh Generation Free and Clear
Up & Up (Target Brand)
Well Beginnings (Walgreens Brand)
They do a great job at providing moms and dads a lot of variety. There is a mix of eco-friendly, name brand, and store brand diapers.
Where can I buy Diaper Dabbler Diapers?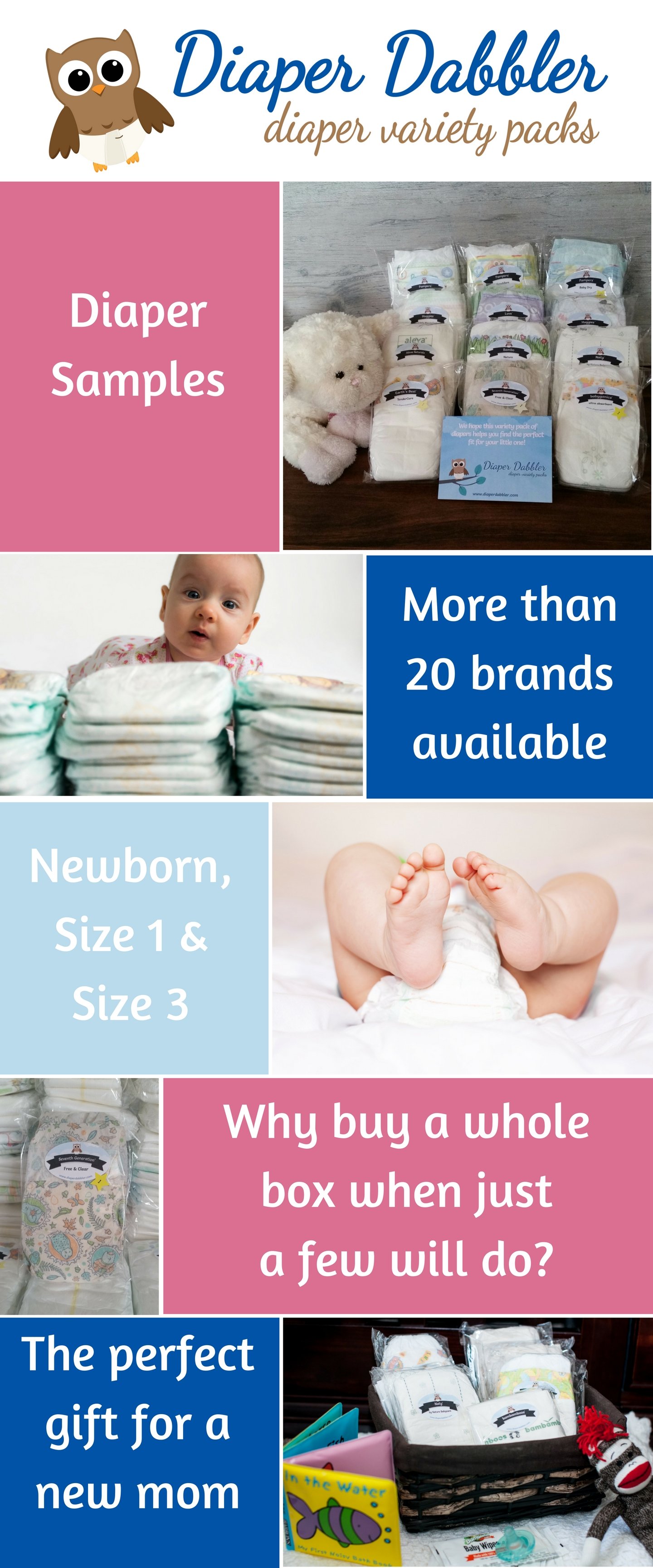 You can purchase Diaper Dabbler variety packs from their website or amazon.
Diaper Dabbler variety packs only come in newborn, size 1, and size 3. By the time I heard about them my baby was already in a size 4. It would have been nice to know about them earlier.
Personally, I have used 4 different brands since my daughter was born. She's always having blowouts and I've been trying to eliminate this along with overnight leaks.  It's been 14 months but finally, I have found what works for us! If only it hadn't cost me so much time and money. A variety pack would have allowed me to reach this point much sooner and for less money!
Every baby is different and individual babies can change over time. What works for your first baby may not work for your second. There's no need for you to face the same struggles I endured. Save your time, energy, and money. Try a variety pack! Knowing what I know now, I'll be adding Diaper Dabbler to my future baby shower gift baskets!
For other tools to get ready for baby, check out these posts:
How many diaper brands have you gone through? What's your favorite? Share with us below!
Like this? Pin It!