Is a Working Mom Planner Necessary?
Who else is on the hunt for the best planner for working moms?
I'm embarrassed to say this, but I've been an absolute hot mess since I've had my daughter.
That was 18 months ago!
I've gone from getting to work early to hoping I get there in time. My previously organized home is often in disarray.
I don't even want to mention my car. It's horrible and I'm so ashamed. If you didn't know any better you'd think we were homeless and living out of the car!
On two separate occasions I forgot to send diapers to daycare.
Then, I got out of the car one morning to discover that summer had disappeared overnight. It was 50 degrees outside and I didn't have a coat for myself or my baby. Talk about a mom fail! ??‍♀️
Luckily for me, daycare keeps extra diapers and extra clothes and coats. They have saved me so many times!!! It's so important to think about these things when choosing childcare.
I know you've been there too and are still experiencing this now! As a working mom it's not uncommon to suffer from extreme disorganization and forgetfulness after having a baby. This was a struggle I finally had to share with my mom to avoid hearing her backlash!
Needless to say, I realized I was in desperate need of a mom on the go planner. That's the only thing that would help me keep track of all of my different responsibilities as a working mom. And boy has it worked!
How to make life easier as a working mom
You're probably wondering how do you get back to your former organized life?
Can you really be a mom, have a career, get to your appointments on time, remember to pay your bills, and have a clean home?
Yes, you can momma!
You can have all of these things and more by using a mom planner, it's that simple.
Well, I don't know about the clean house part but it can at least be functional!
Since we probably can't get Iyanla to come to fix your life, let's explore a more practical means of getting things back in order. Finding the best planners for working moms.
This post contains affiliate links. For more information, read our disclosure.
A Life Planner is Life Changing
Before becoming a mom you may have been able to navigate life without using a daily planner or any form of organization system. Motherhood quickly gives you a swift kick in the butt letting you know you can't manage everything on your own anymore.
For the Type A, loves to be in control, woman that you are, the notion that you might need help may be hard to stomach. Reality is, using an organizer gives you the utmost control.
It's great to have everything in one place. It's less stuff you have to keep up with and it makes it easier to see what's going on with everyone all at once.
Now you're sold on the idea of using a planner, but which life planner should you use?
How to Choose a Planner
There are so many planners on the market and each proclaims to be the "best life planner".
Here's the thing, working moms have needs that are very unique.
You have a career that comes with meetings and appointments. Not to mention, you have goals for yourself and your family.
You have a husband and children who count on you to keep track of their schedules and appointments as well. Let's not forget about the bills you have to pay and the grocery list you have to keep track of.
There aren't many planners out there that address this. But, I did come across three that can really get the job done: Purple Trail Mom Planners, Erin Condren Life Planner, and the Living Well Planner.
I own all three planners and will share with you their strengths and weaknesses.
Don't forget to grab your free planner checklist! Learn how to use your new planner effectively.
Purple Trail Mom Planners:

Purple Trail gives you plenty of options when building your mom planner. You can choose between 9 different design types: modern, typography, elegant, floral, watercolor, sparkle, real foil, premium, or sewn.
Most designs also come with at least 4 different color choices. If you do not like any of their selections, you can create your own soft or hardcover planner using family photos or whatever you like.
Even if you pick one of their designs, you are still able to modify the cover quotes and add photos to make it your own. This feature is at no additional charge to you and makes your planner truly personal.
The mom planners come in two different sizes, 6″ X 8″ which can easily fit in your purse or 8.5″ X 11″ which works well on your desktop. With the smaller size, you do lose a little bit of space but the functionality remains the same.
Best Feature: best customizable planner
The Purple Trail Planner has the ability to customize the inside pages with your own label.
For an additional fee, you can create a section for each member of your household. This makes it extremely easy to see what's going on with everyone at a glance.
You also can decide which month you want your planner to start with. This is particularly useful if you buy your planner in the middle of the year. Now, you aren't wasting money on the other months you can't use.
Purple Trail provides you with the necessary pages to truly have a life a planner fit for a busy, working mom.
You can have a notes page, to do list, bill tracker, baby tracker and keepsake, checklist, password list, and appointment tracker.
Disadvantages
The downside is that you have to pay for each of these additional pages.
Also, from the 18 add on pages they offer, you can only add 4 to your planner. It really forces you to decide what's most important.
You can get a pocket folder but that will also be an additional cost.
After adding the additional options to complete your needs, this planner can get pretty costly.
On the bright side, shipping is free on orders over $75
Erin Condren Life Planner

I love the Erin Condren Life Planner. The packaging alone makes you feel like you are truly getting something special, which you are!
Your planner will come with a clear zip storage pouch that can be used to further keep you organized. It's a great place to store coupons, receipts, stamps, chewing gum, ink pens, or even kleenex.
If you are in a bad mood, don't worry, you're life planner will cheer you up! Not only does it come with 3 motivational cards, but each month starts with its own motivational quote. I was immediately inspired.
Additionally, you'll find 8 gift labels, a coil clip, 2 discount cards for friends and family, and a perpetual calendar. All of this before you even open the planner and at no additional cost to you. It feels like the gift that keeps on giving!
Now let's get to the good stuff, what is inside of the planner?
Best Features: best life planner
The cover design can be patterns, floral, nature, quotes, metallics, or your personalized photos. Customize the cover even further by choosing between 104
accent and background covers. You can also add your name at no additional charge.
With Erin Condren, you have the ability to customize the planner to really make it fit your needs. The weekly layouts can be vertical, horizontal, or hourly. Depending on the layout, each week also has a notes section that can be used as a grocery list or another to-do list.
Start your year off with a bang by using the 2 page goal setting spread. The spread consists of 12 blocks that can be used to set goals for each month of the year.
Prior to starting the month, you'll find an additional notes page that can be utilized to further break down your monthly goals or keep track of other important information.
One of the best parts of this particular life planner is that it comes with an entire note section, a contact page, 4 pages of stickers, and a built in folder.
Disadvantages
A disadvantage of this planner is that it only comes in 7″ x 9″. If you find that you need more than the included pages, there isn't a way to add additional pages but you can add "snap-in dashboards". (In my opinion these are even better).
You can choose from a monthly bill tracker, meal planner, wellness planner, grocery list, travel list, to-do list, and even a party planning list. These are all things that a mom will definitely use. These dashboards come in a protective clear film, making them reusable.
Of course there's an additional fee for the dashboards but you can buy as many as you would like. You'll also need to buy the wet erase marker to go with them.
There are a host of other items that you can buy from sticky pockets, to interchangeable covers, and stickers to make this life planner work for you.
This planner can also become expensive rather quickly if you decide to add some of the dashboards, which I highly recommend.
Once again, orders over $75 ship free.
Living Well Planner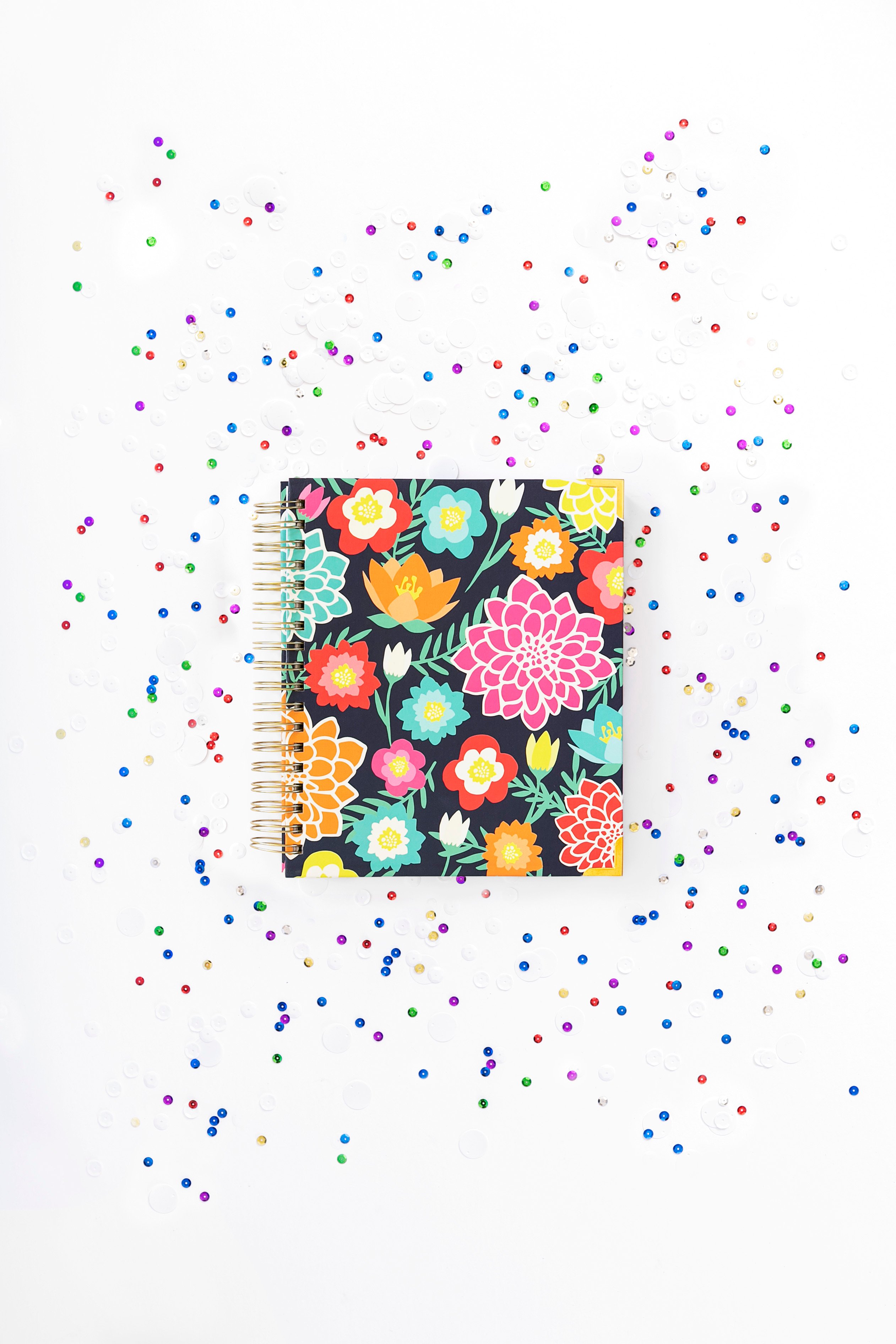 The Living Well Planner is unlike any planner I've ever seen and the user experience is out of this world.
After I ordered my planner, I received an email from the creator, Ruth Soukup, inviting me to a Facebook Group of other planner users who waned to crush their goals.
Ordering the planner also enrolled me in a bootcamp to help me plan and achieve a life that I will love.
The bootcamp consists of motivational emails along with instructions on how to setup and use the planner.
Best Features: best personal planner
The Living Well Planner is the perfect life planner for goal setting and getting things done.
Inside the planner you will find directions, telling you how to get started, what to do weekly, what to do monthly, and what to do quarterly.
This planner really forces you to think about what you want to get accomplished for the year. It gives you a fill in the blank template to help you set your goals.
Goals are divided into 6 categories: personal growth, fun and recreation, health and fitness, home improvements, finance, and connections. You are also encouraged to pick 3 major goals you want to accomplish for the year.
The goal setting theme is continued throughout the months as well. Each month you are provided a space to choose 3 goals to accomplish and a page is dedicated to important info such as emergency contacts like the pediatrician, as well as contact information for your insurance providers and bankers.
You are able to look at the year at a glance and make note of important days.
Each month is started with an inspirational quote followed by a place to set monthly goals. It goes even further by helping you break down the steps to help you accomplish your goals.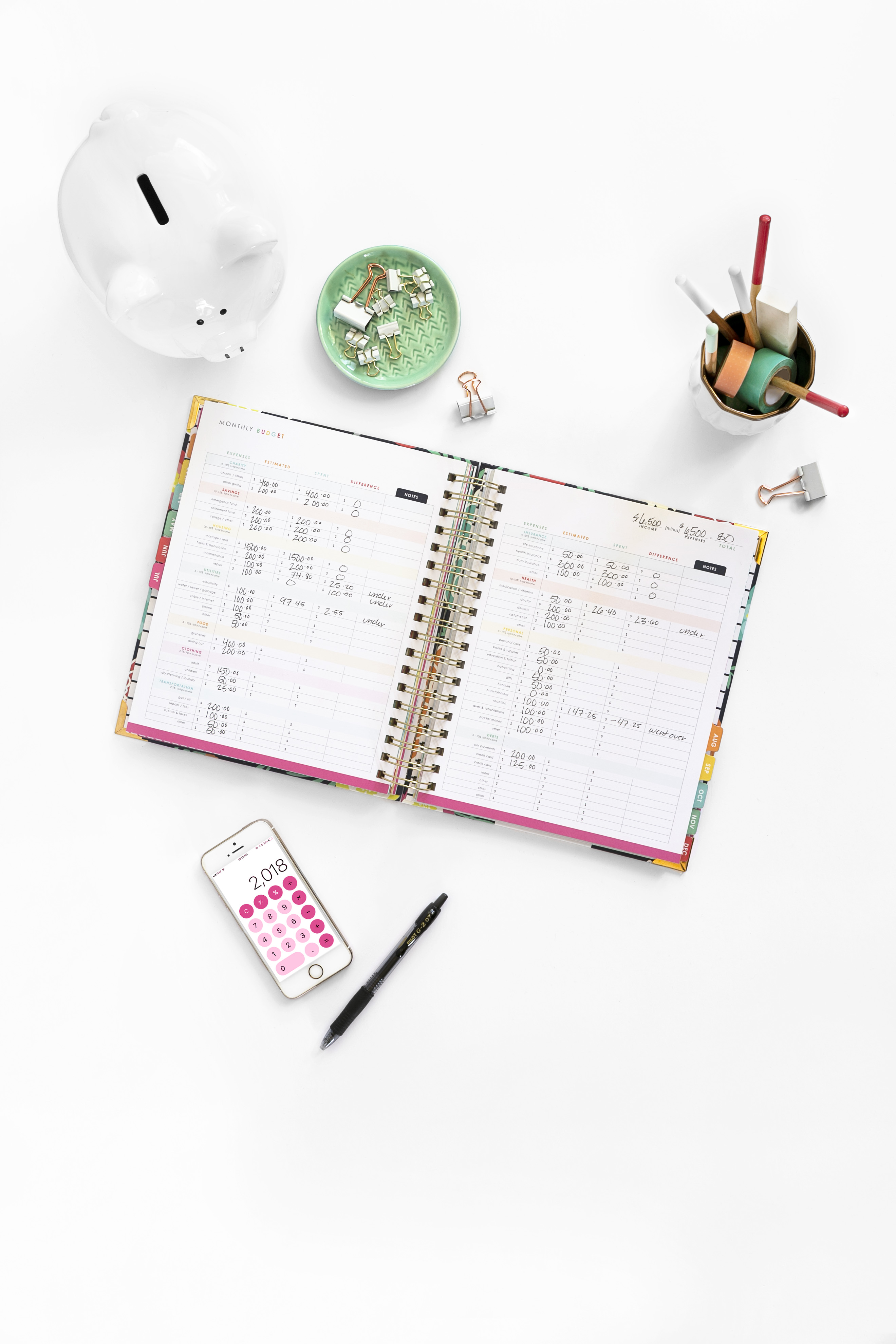 This is perfect for the goal driven, professional momma that you are.
At the end of each month is a place to keep track of your monthly expenses. The sheet maps out savings, housing, utilities, food, clothing, transportation, insurance, health, personal expenses, and debt. You even have a place to set monthly money plans and goals, which is awesome.
Start the planner at whatever month you choose because the months aren't pre-labeled!
Disadvantages
As perfect as this planner is, there are some downsides.
You only have two design options, floral or striped and it only comes in one size.
There isn't an option to customize the planner either on the outside or the inside.
If you aren't satisfied with the included pages, you don't have the option of adding any additional pages or dashboards.
This planner is the most economical and the price stays consistent because there is nothing to add on. What you see, is what you get.
Shipping is free on orders over $50.
Life Planners Eliminate Stress
As a mom trying to juggle motherhood, work, home life, and your own personal activities and ambitions, it's very easy to become overwhelmed and stressed out.
According to healthline chronic stress can lead to irritability, anxiety, depression, headaches, and insomnia. All of which can have a negative impact on ourselves and our families.
A planner adds structure to your life and puts you in control.
Stress is often the result of feeling out of control.
Once stress is removed we will be able to be more present for ourselves and our families.
The level of organization that is provided with a life planner should eliminate the perpetual feeling of running around like a chicken with it's head cut off. You'll be able to schedule self-care activities for yourself and get to work on time, not to mention having time for your family.
With a new year upon us, it's time to make a change. A life planner can be very effective and you should consider using one in 2021.
Click an option below and get your life planner today!
The Living Well Planner (my fav) Purple Trail Mom Planner Erin Condren Planner
Personalized Planners and Organizers Accessories
One of the other great benefits of using a daily organizer planner is that you get to be creative. You can personalize your planner pages any way you want. The options are endless. Below you'll find planner accessories to get you started on customizing the best planner ever!
Like this? Pin it!
Sign up here to receive your free checklist for setting up your planner!