Nothing can match the magic of being a mother. An expecting woman has so much going on that it is hard to accurately predict what will happen at any point and time. It is a mix of something so pure and beautiful along with something scary and confusing (especially for first-time moms-to-be). Being a mother is a special feeling that adds pride and joy to your life. This milestone moment deserves something amazing to commemorate it.
Not everyone gets to enjoy becoming a mother even if they want to. For this reason, those that do should be showered with the best pregnancy gifts for first time moms or the best pregnancy gifts in general. One way to do that is with a pregnancy subscription box. Today we will explore the best pregnancy subscription box for expecting mothers that provide the perfect way to prep and pamper.
You May Also Like:
This post contains affiliate links, please read our disclosure for more information.
Our favorite subscription boxes for pregnant moms
If you already know that a monthly pregnancy box is just the thing for you, check out our favorites to narrow down your selection. If you're still on the fence keep reading and find out why we consider these to be the best pregnancy subscription boxes for expecting moms.
Why are pregnancy subscription boxes great for expecting mothers?
An obvious answer to this question would be that it is a great way to pamper mom-to-be and make her feel special. Of course, there are tons of other reasons.
Benefits of a subscription box for pregnancy:
Pregnancy subscription boxes are usually filled with healthy and fun products that are tailored to the due date. These products are safe, promote health and directly aid in a relaxed pregnancy.
Plenty of themes are available and this allows you to pick based on likes and dislikes of the expecting mother.
All products are organically procured and are safe to use during pregnancy. This prevents expectant mothers from having to worry about checking the list of ingredients unless she is allergic to something.
Some subscription boxes come with handcrafted material. If I were you, I would pay attention to what's included and use them appropriately. .
The most important thing to note is that these subscription boxes are tailor-made for an expectant mother. This means that it would have everything included that a woman will need during this pregnancy.
If you don't like what's in the box, most companies allow you to customize your monthly pregnancy box.
You don't have to guess what mom will need regardless of what stage of pregnancy she's in. If you're buying this for yourself, you can be assured that your needs will be met and you can sit back and truly enjoy this amazing thing called pregnancy.
ProTip: If you like subscription boxes for expectant mothers, I am sure you'll both love and appreciate a subscription for your little one as well. Cratejoy has an amazing one for babies which will be very enjoyable

Why do we recommend a pregnancy subscription box?
Subscription boxes not only bring joy and health but there are various other factors that make it a great buy.
The first factor that makes these pregnancy subscription boxes an excellent buy for consumers is trust. It is easy to trust these companies since they specialize in creating maternity boxes and have been doing so for many years. These companies know what moms need and want plus they believe in adding quality products to their boxes.
In every pregnancy subscription box, you get the best and most used products from expecting moms during their pregnancy. Hence this makes the subscription boxes one of the most reliable products during pregnancy. Other moms have already proven what you'll want and need. No need for you to sit around researching and reinventing the wheel.
Yes! There is a lot of value for the money here. At first, it may appear that the best pregnancy subscription boxes for expectant mothers come at a higher price tag. It stands to reason that when it comes to the health and safety of expecting mothers, it is absolutely worth the price. These boxes are still considered a great buy and collectively, these products offered are reasonably priced.
Besides, your pregnancy will be that much more enjoyable because of it. That right there is priceless!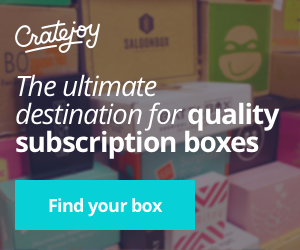 Best pregnancy subscription boxes for expectant mothers
Now you know the value behind getting a subscription box for your pregnancy but the choices can be overwhelming. Let's break down the various options you can choose from and what you can expect to receive in return.
Cratejoy
Createjoy features the most exciting gifts and subscriptions in the world, in my humble opinion of course. These are conveniently available all in one place. I wholeheartedly recommend Cratejoy for all kinds of subscription boxes. One of my friends has a subscription with them as well and gave great feedback. Not only about the products which were great but the shipping which was incredibly fast as well. We all know how important that is. I am so looking forward to ordering a self-care box for myself!
Favorite Cratejoy pregnancy subscription boxes:
This is a box you can start using during your pregnancy and continue with well after your baby has arrived. Each box has 4-6 items ranging from organic skincare, healthy snacks, accessories, supplements, you name it! if you're looking for a box that'll spoil any mom to be, this is it!
Moms love it and look forward to receiving their box because the contents are always thoughtful, encouraging, and unique to their situation. Many of them continue to use the items they've received after pregnancy.
Don't worry, you don't have to commit to this box. Get one box and see what you think!
Everyone always says pregnant women are eating for two. With the Pickle and Chip box you can make sure that what she's eating not only tastes good but is also good for her and the growing baby. Each month mom will get an assortment of 6-8 full size snacks each month.
Expecting moms love this box because the snacks are always right on time! Even the pickiest of eaters will enjoy the tasty goodness that's inside.
Guess what? Shipping is included. Go ahead and start your Pickle and Chip subscription now.
Moms are selfless people and this attribute starts to show itself during pregnancy. Instead of focusing on her needs during pregnancy, some women prefer to center their attention on the life growing inside of them. They start buying outfits, baby books, pacifiers, anything they can think of for their little one. These moms need the Sweet Pea Chic subscription box. Why? It's literally a baby shower in a box, every month! Filled with things for the baby but they don't leave mom out either!
Moms enjoy receiving this box because the baby items are so adorable and top quality. Plus, mom stays up to date on what she needs to do to continue having a healthy pregnancy.
Ready to receive 7-10 handpicked essentials each month? It's time to sign up for the Sweat Pea Chic pregnancy subscription box.
Self-care is a necessary part of life for everyone but it becomes essential for the pregnant woman. The Lena Rose box takes into consideration all of the needs of an expecting mom to be, tailoring their boxes to the trimester of pregnancy.
Moms appreciate the box because on top of the products they also receive words of affirmation and health information related to their pregnancy. It's a win win!
It's time to get the gift box that will take care of all of your trimester needs.
Looking for an all natural box? That's exactly what the Mamas Blooming box is all about. It comes with a mixture of 4-6 natural pregnancy products and baby safe products. Skincare, nutrition, relaxation, it's all in the box.
Sign up and be prepared to get your box the first week of every month.
Cratejoy has this amazing Oh Baby Box that is custom-tailored to the due date!
Guess what?
After birth, they start sending postpartum boxes to ease the transition. It is quite ironic that the least amount of thought is given to postpartum depression which affects almost all new mothers to varying degrees. This is something not to be trifled with at all and considerable thought should be given to how the first few months of transition should be planned not just for the newborn, but also for the recovering mother.
It's awesome that this subscription box for mom to be took all of that into consideration.
Keep in mind each box is valued at over $100 but you're spending way less. Who doesn't love a great deal?
Are you patiently counting down until the day you get to meet your little one? The 9 to Nest box is perfect for this. Each month they send you useful items for the baby and an entertaining poem to help you on your countdown. The boxes are created based on your month of pregnancy.
Moms really like this box because it feels so personalized. It also helps the pregnancy fly by while giving you something to look forward to each month.
It's time to get the unique, high quality gifts that come with the 9 to Nest monthly pregnancy box.
Bump Boxes
Bump boxes are a great way to celebrate your pregnancy. Their subscription boxes are often filled with useful, fun, trendy products that pregnant moms can use now or save for later. Think self care and baby gear.
These Bump boxes contain full-size products that can be used during the different stages of pregnancy. Products in past boxes have included things like ginger-tea packs, beauty products, oils, and many more.
While pregnancy is a lovely time in a woman's life, let's not shy away from observing the various problems and unexpected pregnancy symptoms that are encountered during the process like excessive bloating, cravings, inexplicable itches and a host of other things which are unique to every expecting mother. Bump boxes are a great way to support through these experiences too.
They offer a monthly subscription, or you can even opt-in for a 6-9 months subscription combined which is generally better from a cost standpoint
EcoCentric Mom
Health is probably the most significant aspect that should be taken care of during the pregnancy period, as it is paramount for both expecting mother and the baby. You can show some love to the expectant mother by giving them an Ecocentric Mom pregnancy subscription box. Here is what they should expect with the box:
organic and safe products.
help to take proper care of their health during pregnancy.
the ability to maintain beauty routines. No reason to completely let go just because you are pregnant!
MindWander
One of the best pregnancy subscription boxes for expectant mothers is provided by MindWander. MindWander focuses, no surprises here, on health for expecting mothers. Specifically, they help mom to be get proper self-care which in turn will help the entire family. This subscription box can help to reduce the stress and anxiety faced during the pregnancy period which, as most of us know, can get really overwhelming at times.
Stork Bag
As the name suggests, this is a pregnancy subscription box that comes in a bag instead of a box. This bag contains several pregnancy favorites that an expecting or new mother would love to receive. You can even take advantage of the option of selecting an unexpected gift within the Stork bag. Surprises are the best! Like with many of the boxes, your Stork Bag can be selected based on the trimester of pregnancy.
Choosing the best pregnancy subscription box
Pregnancy and postpartum are tough for both mom and baby. There is nothing that can completely take away the stress and anxiety that sometimes accompanies pregnancy but these lovely subscription boxes can make your pregnancy more relaxing and thereby more enjoyable. The support and knowledge the subscription boxes deliver add to your knowledge and self-esteem.
You now have plenty of great options for a pregnancy subscription box whether it be for you or an expecting friend or family member. The truth is you can't go wrong with any of these monthly pregnancy boxes. Mom to be is going to love the simple fact that you thought enough of her to send her something special. The contents in the box will be the cherry on top!
Which pregnancy subscription box is your favorite!
Like this? Pin it!